BSI DECEMBER 2014 NEWSLETTER CONTENTS
(1) BSI Chairman's Update to Members – Vicki Sheen
(2) IFDS & BSI Blind Sailing Feedback Questionnaire — Please Respond!
(3) 2014 Homerus Invitational Match Racing Championship for the Blind – La Spezia, Italy – Summary & Results
(4) 2014 US Blind Sailing Nationals – Newport, RI – Summary & Results
(5) 2014 IFDS Blind Match Racing World Championships – Sheboygan, WI USA – Summary & Results
(6) 2014 Great Britain Blind Sailing Nationals – Cowes – Summary & Results
(7) Great Britain Blind Sailor Lucy Hodges Awarded MBE
(8) Homerus Project Background Information
(9) Commentary on the Blind Match Racing World Championships in Sheboygan
(10) Blind Sailing Tips & Tricks: Timers and Trust
(11) ABOUT BSI — NEWSLETTER SIGNUP, ADDRESS CHANGE AND UNSUBSCRIBE INFORMATION
(1) BSI Chairman's Update to Members – Vicki Sheen This has been an exciting year for Blind Sailing International and visually-impaired sailors. There have been well-supported national regattas, sailors demonstrating their skills, experimenting and developing new technologies to advance visually-impaired racing and sailing. There have been two international events for blind sailors from Australia, Canada, Finland, Great Britain, Italy, USA and the US Virgin Islands to come together to race and share their experiences and ideas for the future.
The 2014 Homerus International Match Racing Championship hosted by La Spezia, Italy June 10-14 gave competitors and guests a huge welcome and a great opportunity to further push the boundaries of blind sailing. This event introduced, for the first time at an international event, blind sailors racing with no sighted guides on board.
The 2014 IFDS Blind Match Racing World Championships in Sheboygan, Wisconsin USA September 9-14 offered a chance to catch up with old friends plus a wonderful opportunity to make new friends. The event and its organisers provided support and an environment which allowed all sailors, both those new to the sport of match racing and those with more experience, an opportunity to enjoy the event, gain confidence and develop new skills.
The match racing featured visually-impaired sailors pushing the boundaries of their skills. More experienced crews hunted each other down in typical match racing style, while the USA team pushed themselves — three sailors who had never met prior to the event — to learn something new. They came together to meet the challenge and raced a boat completely under their own control with no sighted on board.
Additional visually-impaired sailors joined the ranks of those sailing in the Sonar and Scud classes at the 2014 IFDS Paralympic World Championships in Halifax August 15-24, proving that visually-impaired sailors can overcome barriers and do well at the Paralympics.
2014 has been a good year for strengthening visually-impaired sailors' links and roles within the International Federation of Disabled Sailors (IFDS), part of International Sailing Federation (ISAF), the international governing body for sailboat racing. In March I was invited to join the IFDS Technical Committee and the Events and Scheduling Committees, and in November I attended my first ISAF/IFDS conference in Palma.
As part of my work with IFDS, I have been invited to be part of a panel to review the Paralympic vision classification system. The panel has been selected from classifiers, ophthalmologists, athletes, coaches and organisers representing a wide range of sports and nations. I will work hard to ensure I represent and am knowledgeable about the wide range of issues with vision classification, particularly those relating to sailing.
Recently I spent time with Emma Hickman, secretary to IFDS. Some areas we covered include: how is blind sailor participation captured or tracked, the classification registry and event planning. IFDS Vice President Henry Sleutel proudly informed me that there are "Five world championships allocated each year for disabled sailors. Three are the Paralympic classes — Sonar, Scud and 2.4m — while a fourth has now been ring-fenced for a blind sailing event!"
I know some of you will be asking questions such as: Can blind sailors afford to attend a world championship every year? Can blind sailors afford not to attend a world championship if they wish to be considered elite sailors? Is a world event every year sustainable? Some of you may have strong views around this, and I anticipate this will be a hot topic for an upcoming forum.
The 2015 IFDS Blind Fleet Racing World Championships are still proposed for Houston, Texas USA for late September/October 2015. As soon as the specific date, venue and boats are confirmed BSI will circulate details.
There has been some expressions of interest to host the 2016 IFDS Blind Match Racing World Championships. As with all IFDS events everyone will work to try and arrange events as far ahead as possible and keep you all updated.
Here at the BSI, some of you will have spotted that our BSI web site was hijacked earlier this year. We are making progress re-establishing the site, with help from my husband Ivan, who is an I.T. consultant, my godson who is a web designer, plus contributions from BSI Treasurer Ryck Lent, BSI Vice-chair David Brown and especially to Don Mason, BSI co-founder and outgoing chairman. You can find the new site at: www.blindsailinginternational.com It is work in progress, so please be patient with us. If anyone has information they would like to add to the site or has historical information that has not reappeared, contact BSI at: http://www.blindsailinginternational.com/contact/
Our goals for the new site include social media and forums which will make the exchange of information and ideas far easier. In the meantime,
Another goal is a regular BSI newsletter. If you have a contribution for our next issue, don't hesitate to send your item to Ryck Lent (treasurer@blindsailinginternational.com) who will gratefully receive your submission. We look forward to receiving your news, views and ideas, and you can always contact me at: chairman@blindsailinginternational.com
At the end of 2014, I wish you all congratulations on a great past year and continued good sailing in 2015!   Vicki
Vicki Sheen: Chairman, Blind Sailing International (BSI)
IFDS Technical Committee
Email: chairman@blindsailinginternational.com
Find more details at BSI:  BSI Chairman's Update – December 2014
(2) IFDS & BSI Blind Racing Feedback Questionnaire — Please Respond!
We all want to grow the sport of blind sailing and racing, plus build awareness of our sailing activities with various communities including the visually-impaired, active sailors and the wider public. This year, BSI and IFDS are looking for feedback, thoughts and ideas for increased participation in blind racing — both Match and Fleet formats. Please respond to the following six questions.
The first three questions pertain to Blind Match Racing:
1) What would help increase the number of sailors joining in blind match racing?
2) What are the barriers which prevent visually-impaired sailors from participating in blind match racing?
3) What technologies, categories or race formats would support and improve blind match racing? The next three questions pertain to Blind Fleet Racing:
4) What would help increase the number of sailors joining in blind fleet racing?
5) What are the barriers which prevent visually-impaired sailors from participating in blind fleet racing?
6) What technologies, categories or race formats would support and improve blind fleet racing?
Any additional comments or feedback on either race formats would be also be welcome!
You may respond by:
REPLY to this email with your responses to the above questions.
EMAIL BSI Chairman Vicki Sheen with your feedback and comments: chairman@blindsailinginternational.com
We will collate your feedback and share it with the IFDS and post it on the BSI web site (www.blindsailinginternational.com). Your contributions will help us shape the evolution of blind match racing for the future. Thank you for your participation!
(3) 2014 Homerus Invitational Match Racing Championship for the Blind – La Spezia, Italy – Summary & Results
The regatta was set in the beautiful harbour of La Spezia where most of the week of June 11-14 had glorious 30c temperatures, with the wind building for racing around mid-day and decreasing in the early evening. The event was hosted by the Homerus Association and CSSN (Centro Supporto Sperimentazione Navale) and Sezione Velica della Marina. Teams participating included England, Finland, the host Italy and the US. Both B1 and B2 fleets sailed 21ft  Meteor keel boats with two sails — main and jib — and equipped with the Homerus audio location system.
FINAL RESULTS Category B1
| | | |
| --- | --- | --- |
| Finish | Nation | Team Members (Skipper, Crew) |
| 1 | ITA | Luigi Bertanza |
| 2 | ITA | Danilo Malerba |
| 3 | USA | Antony Bersani |
| 4 | GBR | Shannon Grennan, Vicki Sheen |
Category B2
| | | |
| --- | --- | --- |
| Finish | Nation | Team Members (Skipper, Crew) |
| 1 | GBR | Lucy Hodges, Ian Cattermole |
| 2 | ITA | Alessandro Malipiero |
| 3 | USA | Silvia Parente |
| 4 | FIN | Pekka Rantanen |
Find more details at BSI:  2014 Homerus Invitational Blind Match Racing Championship – La Spezia, Italy Summary & Results
(4) 2014 US Blind Sailing Nationals – Newport, RI – Summary & Results
The 2014 US Blind Sailing Nationals(Fleet format) were held at SailNewport on Sept. 6-7. As is often the pattern at these Nationals, one day had heavy air and the following day was light and shifty. There were six boats in the fleet with teams from California, Massachusetts and Texas competing. SailNewport's expert race management and the high level of racing experience among the teams resulted in tight and competitive racing with 12 races completed over just two days. A splendid Nationals for everyone!
— Matt Chao ere are the final results and crew names in this order: skipper (vi), mainsheet trimmer (vi), tactician, sighted crew.
| | | |
| --- | --- | --- |
| Finish | Team Name | Team members in this order: skipper (vi), mainsheet trimmer (vi), tactician, sighted crew) |
| 1 | Team Massachusetts Duane | Duane Farrar, Amy Bower, Solomon Marini, Denis Bell |
| 2 | Team Massachusetts Pauline | Pauline: Pauline Dowell, Bruce Howell, Kay Van Valkenburgh, Grace Olsen |
| 3 | Team Texas Karen | Karen Penrose, Howard Hughes, Scott Tuma, David Atkinson |
| 4 | Team Massachusetts Matt | Matthew Chao, Tina Kurys, Bill Rapp, Dan Kurys |
| 5 | Team Massachusetts Jason | Jason Wallenstein, Nina Kagan, Mike Dinning, Namcy Jodoin |
| 6 | Team California Eric | Eric Elveba, Ben Smith, Steve Bayles, Danette Davis |
Detailed Race Results: http://www.sailnewport.org/_literature_218212/2014_Blind_Nationals_Results
Find more details at BSI: 2014 US Blind Sailing Nationals — Newport, RI USA Summary & Results
(5) 2014 IFDS Blind Match Racing World Championships – Sheboygan, WI USA – Summary & Results
Australians, Brits win World Blind Match Racing Championship
Six teams representing Australia, Italy, Great Britain, Canada, and the United States competed in the IFDS Disabled Sailing World Blind Match Racing Championship, held at the U.S. Sailing Center Sheboygan, Wisconsin on September 10-14.
The regatta was raced in Sail Sheboygan's evenly matched Sonar fleet with sounding systems that indicate which tack the boat is on, as well as Homerus Autonomous Sailing System marks that each give a unique sound for the competitors to track. All three sailors on the Sonar are blind with a sighted coach following in a RIB during the actual race. The coach is not allowed to communicate with their team until after the match has finished.
Conditions were less than ideal on Wednesday with racing cancelled due to strong winds and large waves signalling a cold front that dropped the temperatures for Thursday's racing.
Racing on Thursday began with the competitors sailing relatively conservatively as they began to feel out their competition and the unfamiliar conditions of Lake Michigan. Racing was made complicated by three to four foot swells that would distort the sound made by the Homerus marks as well as shifty winds.
Friday brought more cool weather and some light rain with a 5-10 knots and a settled sea. Competitors began sailing more aggressively and there were some close matches. The first round robin was completed with Vicki Sheen and the British team undefeated after five races, Kylie Forth and the Australians were one race behind at four wins and Danilo Malerba's Italian team come in third with three wins. The other Italian team skippered by Luigi Bertanza is in fourth followed by David Brown and the Canadians and Kris Scheppe for the United States in sixth.
Saturday saw light breeze but a beautiful day of racing as two round robins were completed for the Category 1 teams (those who can see only light contrast or nothing) and a single round round robin for the Category 2 teams (those who have some limited sight). For both classifications, the skipper must be Category 1.
The Semi-Finals and Finals for the Championship were held Sunday. In the Category 1 Final, Kylie Forth, Ryan Honshooten and Erin McGlew (AUS) came from 0–1 down to take three straight wins and the title from Luigi Bertanza, Alberto Prudenzano and Enrico Sosio (ITA). Meanwhile in Category 2, Vicki Sheen, Lucy Hodges and Liam Cattermole (GBR) took the clean sweep beating Danilo Malerba, Alessandro Malipiero and Elisabetta Bardella (ITA) 3–0 and in an impressive display of sailing remain undefeated throughout the entire competition with 10 straight wins.
Complete results http://www.matchracingresults.com/2014/ifds-blind-world-championships/
The event was put on by a collective group of organizations. Sail Sheboygan, the Sailing Education Association of Sheboygan (SEAS), and the Sheboygan Yacht Club have headed the racing aspects with amazing shoreside support provided by the Lions Club and Rehabilitation Center of Sheboygan (RCS) and others. The event also coincides with the launch of an adaptive sailing program in Sheboygan ran by SEAS which has purchased a set of the Homerus marks to continue training blind sailors for future events.
Report by Matt Wierzbach. Photo by Chris Gribble. Courtesy Scuttlebutt
Find more details at BSI:  2014 IFDS Blind Match Racing World Championships in Sheboygan
(6) 2014 Great Britain Blind Sailing Nationals – Cowes – Summary & Results
Blind Sailing 2014 Nationals on 3-5 October were welcomed back by Cowes Corinthian Yacht Club (CCYC) with 14 visually-impaired sailors and 14 volunteers taking to the water in Sonars chartered by Beds and Bars from Island Sailing Club.
The racing was divided into two classes, 3 Sonars in Class 1 which is made up of B1 where crews are totally blind and Class 2 comprising of 4 boats which is made up of B2 and B3 those with some useful vision and can see hand movements.
Friday all boats took to the water for two practice races. This year Blind Sailing welcomed their youngest sailor, Patrick Beukenholdt, at the age of 11.  Patrick has recently classified as a B3 and hopes one day he will be selected for the Blind Worlds. We also welcomed new sighted crews David and Sarah Ross and Nathon Scarll.  Two practice races got all fired up ready for the start of racing and gave the new sailors a taster one they couldn't wait to experience again.
To welcome all and start the Blind Nationals Friday evening was hosted by China China with a few special words by Andy Castle had all hoping the strong wind forecast would drop overnight.
Saturday morning started with a strong wind forecast racing was AP for one hour. With the strong wind and rain clearing through all boats headed out for an 11.30 start under the racing instruction of Andrew Millband.
Racing started in 15 knots of breeze seeing both fleets have very close starts and staying close through out the racing. The course where set windward – leeward lasting around 45 minuets.
The B1 fleet had some close battles around the windward mark but key communication from all tactician's kept them up tide of being swept on to the mark. With a totally blind helm it's calling the bear away that is key, using count down techniques and also the helm's feeling the breeze.  All boats had a win during the day but after four races one point splits all boats.
In the B2-B3 fleet it was close racing again, all starts saw boats fighting for position trying to win the right place on the line to get clear wind and good positioning on the tide.
The wind was shifting as it decreased all day seeing the boats swop positions on all legs, Patrick at the age of 11 gained his first two race wins catching the shifts and playing the tide.
The racing stayed close for all four races and all teams enter into day 2 with all to play for.
Day 2 of the Blind Nationals racing was due to start at 10.25 but with only 3 knots of breeze the AP was displayed ashore. The race officer reviewed and with slight breeze of 2-3 Knots from the east canceled racing for the day.
With four strong races on Saturday it was all close but with no racing to be held the following results stand.
Class 1 1st Adam McGovern, Sarah Ross, Sharon Grennan and Dennis Manning
2nd Martin Moody, David Ross, Vicki Sheen and Nicole Davey
3rd Adam Parry, David Hawkins, Anne Wilcock and a Sally Rodregus .
Class 2
1st Ian Shirra, Patrick Beukenholdt, Lucy Hodges
2nd Jonny Stevenson, Callum Rawcliff, Toby Davey
3rd Nathan Scarll, Laura Campbell, Martin Philips.
A disappointment that day 2 was canceled but some great racing had been had by all. Andrew Millband praised all for the great racing on Saturday with both fleets fighting it out all the way down to the line on each race.
Blind Sailing caught up with the new sighted volunteers and all had been overwhelmed by the closeness of racing and the skills of all the sailors using all of their other senses to sail and race hard. Blind Sailing has so many people to thank for making the nationals happen and the biggest thanks goes to Beds and Bars for making the weekend a success and to Enterprise Cars for helping the volunteers attend.  And to Cowes Corinthian Yacht Club, Island Sailing Club, UKSA, China China and all the volunteers. Blind Sailing now moves into their winter programme getting ready for the Fleet Racing Worlds in 2015.
Find more details at BSI:  Great Britain 2014 Blind Sailing Nationals – Cowes
(7) Great Britain Gold Medalist Blind Sailor Lucy Hodges Awarded MBE
Miss Lucy Hodges has been awarded the MBE for services to Blind Sailing in The Queen's New Year Honours list for 2014.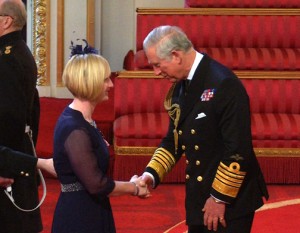 She has been an inspirational sporting figure for many years and amongst numerous awards she was Essex Paralympic Hopeful in 2009 and the Rochford District Sports Personality of the Year in 2010.
Lucy's dream was always to win the World and International Blind Sailing Championships. Despite being selected for the last 4 World Championships, winning 2 Silvers and 2 Bronze medals, selection wasn't guaranteed and Lucy fought hard to secure her place for the 2013 event in Japan.
Prior to the event Lucy sailed solo twice along the length of Lake Windermere to raise money for the volunteers who helped support her at the Championships.
She went on to achieve her dream of a Gold Medal by skippering her B2 crew and winning an incredible 12 of 15 races. She has also dedicated a lot of time to ensure as many visually-impaired athletes as possible have had the opportunity to participate in the sport of sailing.
The MBE is deserved recognition for what Lucy has achieved both on and off the water.
In Lucy's Own Words …
Well, I am still shocked and smiling about both the day I got told I had been awarded MBE and also the investiture itself, and can not thank the people behind me enough.
Blind Sailing from the age of 17 has made me what I am today and helped me achieve many goals — not just in my sailing career but also in my working life.
Looking back so many people have been part of the work I have done with Blind Sailing, from the VI sailors to — most important — the sighted volunteers. When I started with Blind Sailing I would never have imagined how sailing and the people involved would give me confidence to travel, to talk in groups and to take on new challenges, and also the chance to win Gold for Great Britain.
It has been this start in life that has made me want to give this start and the feel of freedom sailing brings to more visually-impaired people around the UK. I take a little idea and feed it in slowly, although I will admit it is a full-time job, it is one I love and enjoy sharing the success with others.
Receiving my MBE on 21 March from the Prince of Wales was so special. I have throughout shared this award with the charity's volunteers and it was great to share the stories about the people behind me whilst receiving this award, I could never have imagined our success of Japan and how some of our volunteers have been with us for 20 years. I still smile thinking of that moment, and thank my work for the nomination. Something so special for the charity. — Lucy Hodges, MBE
Find more details at BSI:  Great Britain Gold Medalist Blind Sailor Lucy Hodges Awarded MBE
(8) Homerus Project Background Information
The Homerus Project focuses on encouraging blind sailors around the world to learn unaccompanied sailing. At the same time, the association is involved in different cultural and social areas at the national and international level.
Founder Alessandro Gaoso ended his athletic career as a 9-time Italian champion and two-time world champion in the Mini-Ton Cup racing class, and initiated the Homerus project in 1996. The project is based on his vision and the belief in the skills of the blind sailors. In Alessandro Gaoso's opinion, they just needed tailor-made teaching methods to sail unescorted. His very successful blind sailing crews have proved him right in the past years – even in match races. Audiences are amazed and surprised when they watch them.
Thanks to the two-colored sails (top antique brown and white below) and the eye-catching Homerus logo, a blind sailor's boat can be directly identified. For regattas and match races, a blind sailor is supported by acoustic signals so other boats and buoyage can be identified.
The first Homerus project was created in 1996 on Lake Garda and expanded quickly. More than 200 blind sailors from all over Italy have been trained up til now. Homerus is now represented in 12 locations in the country. In addition, Australia, Israel, Japan, England, America, New Zealand, Canada, Finland, France, Spain and Switzerland have adopted the training method and Homerus has initiated various national and world championships.
Objectives of the project:
– to be an example of sports without borders
– to encourage blind sailors to believe in their abilities
– to promote and educate blind sailors
– to give rise to blind crews on every continent
– to convey the Homerus method to sailing teachers around the world
Find more details at BSI:  Homerus Project Background Information
(9) Commentary on the Blind Match Racing World Championships in Sheboygan
–  From Liz Baylis, ISAF Match Racing Committee Chairman:
I had the pleasure last week of watching the IFDS Blind Match Racing World Championship in Sheboygan, Wisconsin (Scuttlebutt 4170). My first reaction upon meeting the sailors and watching them compete was "Wow!" These are all truly gifted athletes with a passion for their sport. In this event they competed without a sighted person on board while racing – imagine buoy racing in close quarters in the pitch black with sloppy 4-foot seas and light winds. Could you do it? I was in awe.
Leading up to the event I had read with fascination about previous blind match racing events and researched the Homerus Autonomous Sailing System which uses three acoustic buoys, each with a unique sound signal, defining the course while the racing boats had their own sound signal that changes when the boat is on port or starboard tack. But this still did not prepare me for what I would witness.
I was on the water providing live commentary to an audience on shore that included sighted and blind sailors and non-sailors. And I can't tell you how many times I just kept saying "Wow, these athletes are awesome. They are sailing really well and they are match racing, being aggressive, and doing it with great enthusiasm. I'm impressed." I am looking forward to seeing this sport grow and I encourage all of you to find an opportunity to witness and support these fine athletes. I think you'll be impressed as well.
P.S. There was one day with no racing due to 30-40 knot winds, so what did the athletes do? They went bowling! Good fun was had by all. –
From a Sheboygan-area television station report:
For many, the sport of sailing is about getting out there and seeing what the world's waters have to offer. But that wasn't exactly the case this weekend in Sheboygan.
This weekend, Sheboygan played host to a world championship sailing competition but not one competitor saw the finish line. That's because the athletes are all blind.
"I lost my eyesight in accident. A soldering iron exploded, and sent shrapnel into my eyes and the rest of my body," said David Brown, a competitor from Canada. Brown went through the stages of grief when he lost his sight. First anger, then denial. But now he and his blind competitors can see one thing.
"You've got to make life. You've got to go to life. Life doesn't come to you. You've just got to get out there and keep living it. It doesn't matter whether our eyes don't work too well or not. Just keep on doing what you're doing," said competitor Ryan Honschooten from Australia.
The sailors race around a course with buoys emitting sound so the competitors know where to go. Sailing, even for those with sight, is based largely on feeling the wind in the sails making it a great sport for the blind. But learning the intricacies of sailing is not easy.
"When you're trying to teach the blind to do anything, you want to paint a verbal picture. A picture is worth a thousand words, but we need the 1000 words, not the picture," said Brown. Sheboygan's own BJ Blahnik lost his sight gradually and is picking up the sport bit by bit. Each step requires patience, but it comes with an amazing reward.
"The first time I went sailing with my instructor, he was quiet and it was just me sailing, the wind and the waves, it was so freeing because I hadn't had control like that of something since I stopped driving over 12 years ago," Blahnik said.
Football, basketball, baseball, soccer are all off limits for the most enterprising blind athletes on earth. But sailing is a great outlet for their competitive juices.
"I've found a sport that I can excel in. I was never really able to do competition. I've stumbled into a sport that lets me go far, that lets me drive something, and also lets me be on an equal playing feeling with everybody else. It's just amazing," said competitor Kylie Forth from Australia.
"I challenge any blind person, young or old, come down to Sheboygan, come out sailing for a day, and it will change your life and your perspective," Blahnik said.
— From 2014 Blind Match Racing Category 1 Gold Medalist Kylie Forth (AUS) to her team supporters in Perth Western Australia
I am delighted to announce that our Team (Erin McGlew, Ryan Honschooten and I) have brought home gold for Australia from the 2014 IFDS World Blind Match Racing Championships, held recently in Sheboygan, Wisconsin.
The regatta was hosted by Sail Sheboygan, and Seas (Sailing Education Association of Sheboygan) on Lake Michigan. We were made extremely welcome by the Club and many Lions volunteers who helped out during the event.
Five countries were represented across two divisions in the championship: Australia, Canada, Italy, the UK and USA. Category 1 consisted of totally blind sailors, while Category 2 had totally blind Skippers with vision impaired crew.
Organisation both on and off the water was impeccable, and we were able to complete all scheduled races despite losing one day to a combination of fog, strong wind and enormous waves.
There was much close racing in a variety of wind and wave conditions which tested all the sailors' skills to the maximum, and resulted in some dramatic lead changes in some matches.
The initial round robin allowed all teams to sail against each other across both categories. We won all but one of these races, putting us second overall behind the UK team, who went on to win gold in Category 2.
In the two other preliminary round robins, against crews in our own (totally blind) category, we lost only one race. We were therefore top-ranked team in our category, and had an automatic pass to the finals. The results of the semi-finals gave us the opportunity to challenge the 2012 world champion, Luigi Bertanza, for the trophy.
A collision in the pre-start of the first match of the finals put us on the back foot, and we were unable to retake the lead in that race. However, by sailing cleanly and conservatively we had three straight wins in the next matches, thus allowing us to take the title.
This has been a dream in the making for the last eight years, and we could not have done it without the incredible support of Royal Perth Yacht Club, Sailability WA, and the countless volunteers who have assisted along the way.
In the week following the championships, our Coach Justin Kelleher was announced as the WADSA (WA Disabled Sports Association) Coach of the Year. He has put an incredible amount of work into our team over the last three years, and his commitment and focused training sessions were instrumental in helping us achieve our goal.
— Kylie Forth
– Bright future for blind match racing, from the Editor of Scuttlebutt:
When the 2014 IFDS Disabled Sailing World Blind Match Racing Championship was held September 10-14 in Sheboygan, WI, it was the first championship sailed with no sighted observers on board.
At the seven minute count down, the team coaches left the racing boats, leaving the visually impaired sailors alone on board to race the boats using only the feel of the wind, feedback through the hull and tiller, pressure in the sails, and using audio buoys to make decisions on layline strategy and tactics.
Each mark of the course emitted a different tone, with race managers communicating to teams by radio. With teams circling each other and battling for pre start dominance, often only a few feet between boats, the umpire's role, communicating over the radio, information and penalties, was key.
Vicki Sheen, who won the Category 2 title (some sailors with limited sight), explains "As a blind helm it is essential to be able to feel the wind on your face and the back of your neck, therefore, despite the cold temperature, I tied up my warm covering of shoulder length hair, and pushed down my fleecy collar to expose as much skin as possible. Not a warm way to sail but, needs must, when trying to win races."
Sheen's team of Lucy Hodges on jib with Liam Cattermole on main have all successfully helmed and won medals at previous international sailing events. This understanding of each other's roles assisted them to develop great team work through excellent communication on the boat. "We can't see what each other are doing, so we need to keep the information flowing back and forth all the time," explained Hodges.
"It is an amazing and exhilarating way to sail," shared Sheen. "Blind and partially sighted sailors, completely reliant on their own skills to sail the boat". Blind match racing is a newly developing sport. Sheen, who is also President of Blind Sailing International, came away from the event, not only with a gold medal, but excited for the bright future of Blind match racing.
More at: http://www.sailingscuttlebutt.com/2014/09/19/bright-future-blind-match-racing/
Find more details at BSI:  Commentary on the Blind Match Racing World Championships in Sheboygan
(10) Blind Sailing Tips & Tricks: Timers and Trust Timers
– The Secret To A Great Start
Optemum Racing Watch
The GBR Blind Match Racing Team was emailed letting us know that Optemum had sponsored us with a watch each. As the totally blind member of the team, I assumed they couldn't mean me — however large or clear the dial or numbers, I could not read it.
Imagine my excitement when they handed me my first ever racing watch which I could not only hear increasing countdown bleeps, feel a vibration at each bleep, but due to the easy button layout and acknowledging bleeps when pressed, I could easily set up the watch and be confident I had correctly started it.
At the IFDS Blind Match Racing World Championships in Sheboygan, I can say that despite sometimes not being able to properly feel my fingers due to the cold, I never missed getting the start sequence. For the first time ever, I had a reliable countdown, which didn't let me down through any of my ten races.
Milestone 3 MP3 Player and Digital Recorder
The Milestone has an easy-to-use digital recorder and player facility. A file can easily be created and used as a timer during racing. A file started at the initial gun and starting sequence can then verbally count down at ten second intervals increasing to seconds at key points. A second file can also be recorded with a countdown one minute on, in case the first gun is missed.
The ten second or less intervals of information is an advantage on any other audio system. However, it is difficult to get the recording loud enough to easily heard over the noise of flapping sails. I found myself having to keep bringing the timer up to my ear to hear the next announcement.
iPhones
The iPhone has an excellent timer facility which unlike other timers, can be interrogated to give on request immediate up dates, thus informing the sailor the time in-between bleeps at minute intervals or more rapid bleeps during the last minute count down.
The iPhone has not been tested under race conditions. This is due to the difficulty of operating the phone during sailing, the concern with a safe waterproof housing and the risk of damaging the phone through water or physical accidents. However, this may be a further method for the future.
— Vicki Sheen
Kitchen Timers On The Starting Line
It is possible to use a simple countdown talking timer or watch which announces the elapsed time at each minute, every ten seconds in the last minute, and the final ten second countdown, as racing starting timers.
This can be customized so that you can hear the elapsed time regularly during a start sequence, but you must use two devices in unison. Set one to count down from one minute, and the other from five or seven minutes, depending on the length of your start sequence. Running both timers or watches simultaneously will give the elapsed time every ten seconds, and remind you how many minutes are left.
Dangers of this method are that you might not activate both timers simultaneously, so one is slightly wrong. In addition, it may be difficult to hear the elapsed time unless you fix the timer to your shoulder or hat.
— Kylie Forth
Sailing senses: Tips from a blind winner
By Toby Heppell, Courtesy of Yachts and Yachting, January 2014
Vicki Sheen is now a double World Blind Sailing champion. Born with 10 per cent vision, which she gradually lost by her late twenties, Vicky discovered sailing on a standard RYA Learn to Sail course in Salcombe, Devon in 1996 and now sails with both sighted and visually impaired crews.
Vicki draws on her experience as a physiotherapist to demonstrate just what sighted people miss when using only their eyes: 'If a colleague and I are working behind adjoining curtains, the next patient can come in and I will know if that person is male or female, whether they are anxious or agitated and potentially what they are having treated just from the way they walk or from the sound of them taking off their coat. 'For example males always jangle their keys in their pockets. The curtain is not a barrier to me in the same way it is to my colleague. My colleague will be hearing the same as me but won't register and log that information in the same way.
'Sight takes over as the dominant sense for most people; you can be hearing and feeling but what you register is what you see. It is a question of focus and how you register and log all the information around to make the most rounded decisions.'
Complete trust
Vicki insists the key to a visually impaired sailor sailing successfully with either sighted or other visually impaired crews is trust, and it works both ways. Sighted crews have to trust the skills of the visually impaired sailors, normally the helm and the mainsail trimmer. But the visually impaired sailor also has to completely trust the sighted crews. Such close partnerships between the sighted and unsighted crew can on occasion – especially while carrying out an emergency repair or checking the rig – allow them to forget there is someone who cannot see steering the boat! Vicki says this interdependency forges connections on a boat very quickly, and through sailing she has had the opportunity – in her words a 'privilege' – to meet people and develop friendships that she believes she never would have had if she had not had the chance to sail in this way. 'Walking through someone's front door is a massive challenge, I don't know where the doors are, if there are steps or anything to bump into,' she added. 'But I can step on to any boat, and once I know which end is the bow and which is the stern, I can sort myself out within a minute and sail with complete strangers because my other senses come into play.'
Use your senses
How can Vicki's expertise open your eyes to a whole new level of sailing? Here is a taster of some of the secrets she will reveal in her RYA Suzuki Dinghy Show talk, 'Sailing With Your Senses'.
Filtering down
For a sighted person the brain filters out about 99 per cent of the information it is receiving so things like touch, temperature and body position don't have the same importance unless they are needed. A visually impaired person logs more of that peripheral information and registers it so awareness and knowledge of what is going on around you all the time comes from different sources.
It's all about the hairline
One of the key places for me to feel the wind is the back of my neck. I sail with my hair up and I have been known to cut hoods and collars off bulky wet weather gear, even offshore, so I can feel the breeze on my neck.
Drop in pressure
Cold, heavier air is easier to detect against the skin than a light breeze on a warm summer's day as the air is less dense and the temperature is more like body temperature.
Audio clues
Do you notice cleats on boats nearby being released, or do you see their sails and manoeuvres? When you are used to registering sounds like that, and the variant sounds of different sail tensions, your ability to anticipate their next move improves.
Direction differences
Sensory indicators vary on a run and a beat and whether you are feeling true or apparent wind. It is possible to steer an almost perfect course unsighted when you learn what the wind feels like on your neck and face.
Feel your way
How much notice do you take of how the boat feels under your thighs or feet, or the changing angle of the boat or what you can sense through the tiller? Getting a true feel of the hull in the water makes you and the boat much closer and you more receptive to changes in the way it is sailing.
Let's talk
What you say and how you say it are equally important. Instructions must be clear, calm and concise for a visually impaired sailor. Would that not make for a less frantic, more efficient sighted crew too?
More at: http://www.yachtsandyachting.co.uk/sailing-techniques/sailing-senses-tips-from-a-blind-winner/
Find more details at BSI: Blind Sailing Tips & Tricks: Timers and Trust
(11) ABOUT BSI — NEWSLETTER SIGNUP, ADDRESS CHANGE AND UNSUBSCRIBE INFORMATION T
his newsletter is produced by Blind Sailing International, an independent global sailing association: http://blindsailinginternational.com
Please forward this newsletter to anyone who might be interested in learning more about blind sailing, or who might know someone who is vision-impaired. Blind sailing offers a unique opportunity for both sighted and visually-impaired persons to collaborate and share the joy, freedom and excitement of sailing.
To contact Blind Sailing International, use this link: http://www.blindsailinginternational.com/contact/
Email Vicki Sheen chairman@blindsailinginternational.com
To subscribe, use this link: subscribe
To update, use this link: update email address and include both your old and new email address
To unsubscribe, use this link: UNsubscribe